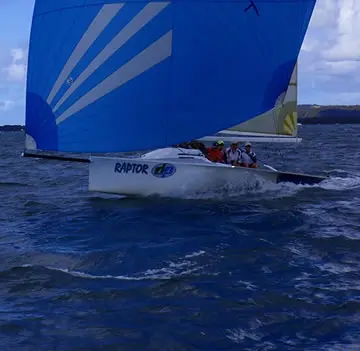 Welcome to our line of racing Asymmetrical Spinnakers. With our seven separate profiles to choose from, A1-A7, we guarantee improved performance and ease of sail trim. We only use the best nylon materials available to suit your specific needs.
Our series of running Spinnakers, A2, A4 and A6, cover the entire wind range from light to heavy air. The reaching sails, A0, A1, A3 and A5, begin at apparent sailing angles just under 45 degrees and continue through to 160 degrees. To select the best choice, feel free to discuss your inventory with one of our sailmakers.
Our Spinnakers shapes are sculpted using a custom 3-D program created by our in-house designers. Since they actively sail on our local waters, their experience will provide you with a better performing sail to suit your needs. A smooth aerodynamic profile will now evolve to become a finished product that is custom built in our local sail lofts. From stitching to hand finishing we assure you that our local sailmakers have taken great pride while crafting your sail.
Sail features include : numbers, leech and foot control lines and hoop bag.
Optional extras: box bags, sheet prevention strop, V trim stripes and corporate logos.
Best Uses: High Performance Club Racing
PHRF/IRC/ORC - 'Round the Bouys Racing.
Serious Offshore Racing
Offshore One Designs - where class rules permit
Inshore One Designs - where class rules permit