Technology Evolved.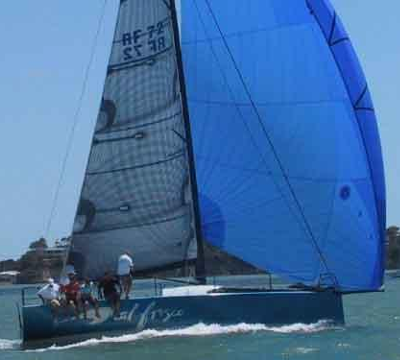 EM Membranes represent great performance and value for offshore and bouy racers.  Boats with EM Membrane inventories won the 2010 Charleston Race Week. EM's perform well on boats of all sizes from 50 footers like EVOLUTION RACING and VINCITORE to smaller race boats like 4 SAIL.
Each EM Membrane is custom engineered specifically for you. EM is less a sail type and more a process of design, engineer and custom fabrication – a process designed to create the very best sail for any boat of any size.
For the very best in durability and performance, a custom EM Membrane is a great choice for your boat.
EM Membrane Genoa, EM Membrane Jib and EM Membrane Mainsail
When considering a lighter weight, high performance Genoa, Jib or Mainsail for local club or offshore racing, nothing beats our EM Membrane series.
What differentiates this from off-the-shelf cloth is that we design and manufacture the fabric from start to finish. This way we control the fibre density and location throughout the sail. This saves weight a lot and the sail loads more evenly requiring less adjustment to trim.
We use Twaron, Carbon and other fibres combined with Mylar and adhesives. These are laminated under high pressure to remove any excess resin to ensure the best fusing laminate available. EM Membrane sails are also available with internal taffeta where extra durability is required.
While we are engineering your custom fabric, a sail mold is being created using a 3-D program by our in-house designers. A smooth aerodynamic profile will evolve to become a finished product that is custom built. From stitching to hand finishing, we assure you that our sailmakers have taken great pride while crafting your sail.
Genoa and Jib Standard features include: leech and foot control lines, telltale window, appropriate luff tape, spreader patches, telltales, numbers and bag.
Mainsail Standard features include: tapered battens, appropriate luff hardware, telltales, cunningham, numbers, leechline, sail ties and bag.
Mainsail Options available : reefs, insignia, boom covers and corporate logos.
Best Uses: High Performance Club Racing
PHRF/IRC/ORC - 'Round the Bouys Racing
Serious Offshore Racing
Offshore One Designs - where class rules permit
Inshore One Designs - where class rules permit