Nothing performs like Evolution upwind racing sails, explore our race winning range.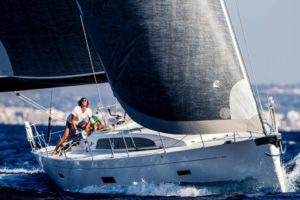 Element membrane sails track record for racing sail performance is being proven across the world. You'll be leaving nothing to chance with our premium and most popular product. Ideal for day sailing to high performance offshore racing. Think of it as your new secret weapon. It outperforms taffeta , is light and rugged and the culmination of a partnership with renowned Dimension-Polyant USA. The ultimate total performance racing sail.
Nothing beats our E-Tech Membrane sails for local club racing or high performance offshore racing. The power and smoothness are a result of the custom made fabric in our EM2 Membrane plant. We use extremely light weight Mylar film for minimal weight and maximum shape retention. And because Our E-Tech racing sails are all glued together which results in the elimination of seam creep. That means the racing sail retains its flying shape for longer so you can make the most of the power E-Tech sail membranes generates.
Ideal for club racing or one design racing with a price that won't slow you down. Get cutting-edge racing technology with the same meticulous design as our membrane sails, but we've made it very affordable for you to race them.
Our Laminate Mainsails will spoil you for other sails. With glued seams throughout, fell the rush of power. The uniquely honed balance for the best possible performance. Evolution Laminate racing mainsails combine our tremendous racing finishing with the refined technology of the custom EM2 membrane sail.
Nothing come close to Evolution Laminate Genoas. With the shape holding capabilities that champions are made of. Come challenge the wind with the headsail that's designed to win races.
Racing Woven
Years from now you'll be talking about its value. That's because we use the latest generation of woven polyester sailcloth, constructed out of the finest quality materials and woven to a very high density by the world's top rated cloth manufacturers. The perfect economical sail choice for club racers and built to last a long, long time.
Find out how to make your yacht feel like a new boat.